Products & Services
Customer Experience Surveys
Collect Genuine Customer Feedback in an Engaging Way to Increase Response Rate and Statistical Validity
Staffino Feedback Campaign Is Your New Customer Survey
Designing and running customer experience surveys has never been easier!
Staffino is an incredibly versatile survey platform which allows you to collect actionable feedback from your customers and measure your CX through effective targeted customer experience surveys.
Listen to your customers' voices, get proactive, and enhance their experience.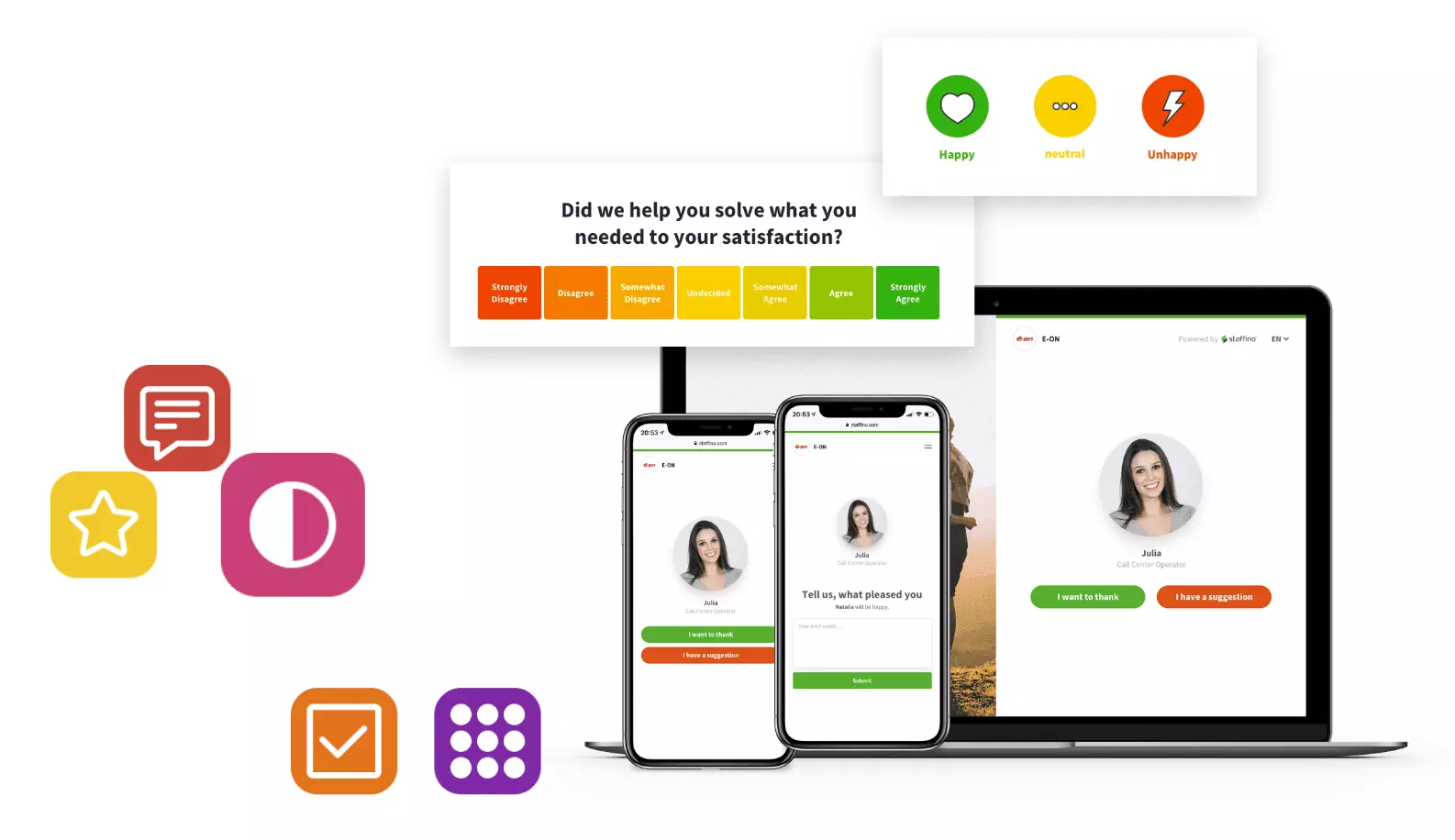 Build Your First CX Survey in a Matter of Minutes
Our easy-to-use online platform will help you quickly create engaging feedback campaigns with a drag & drop tool. You can choose from ready-to-go question templates that can be easily customised to match your brand identity and fit your business needs.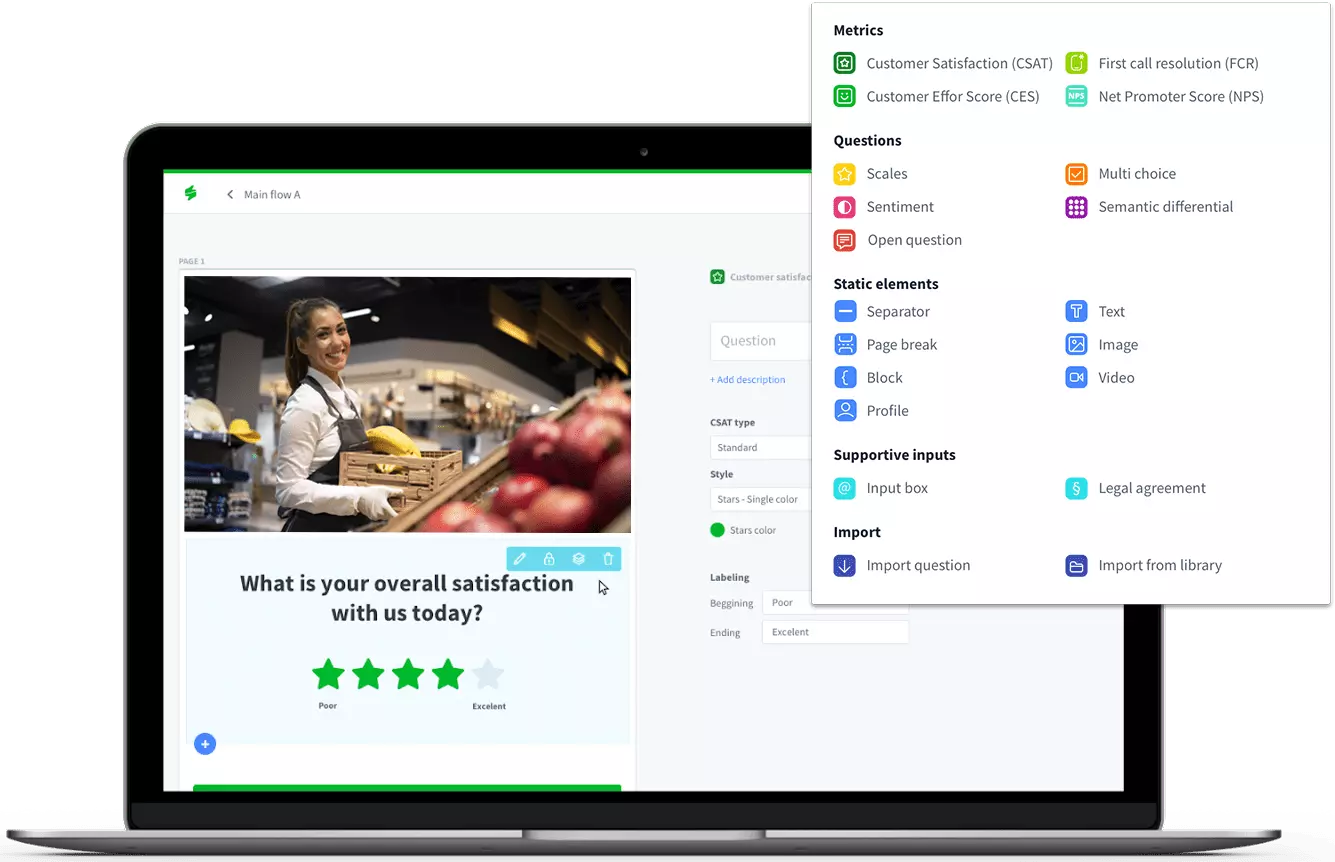 Create and edit
Reuse (Library)
Reorder
Create structure
Set required questions
Conditions
Stylise
Edit while active
Randomise

Design Smart Campaigns With Advanced Logic
Ask the right questions in a structured manner by setting relevant conditions, and get the most out of your customer feedback.
Automated Distribution Through Different Channels
With Staffino, you can choose to distribute the feedback campaigns manually or automatically. For full automation, set specific triggers and link surveys to the desired stage of the customer journey.
You can distribute your customer surveys via email or SMS with a shortened link, and you can also opt for spontaneous QR code surveys. Want to sync your feedback campaign with external reviews received? No problem! Our platform can also integrate and analyse feedback from external feedback tools such as Google reviews.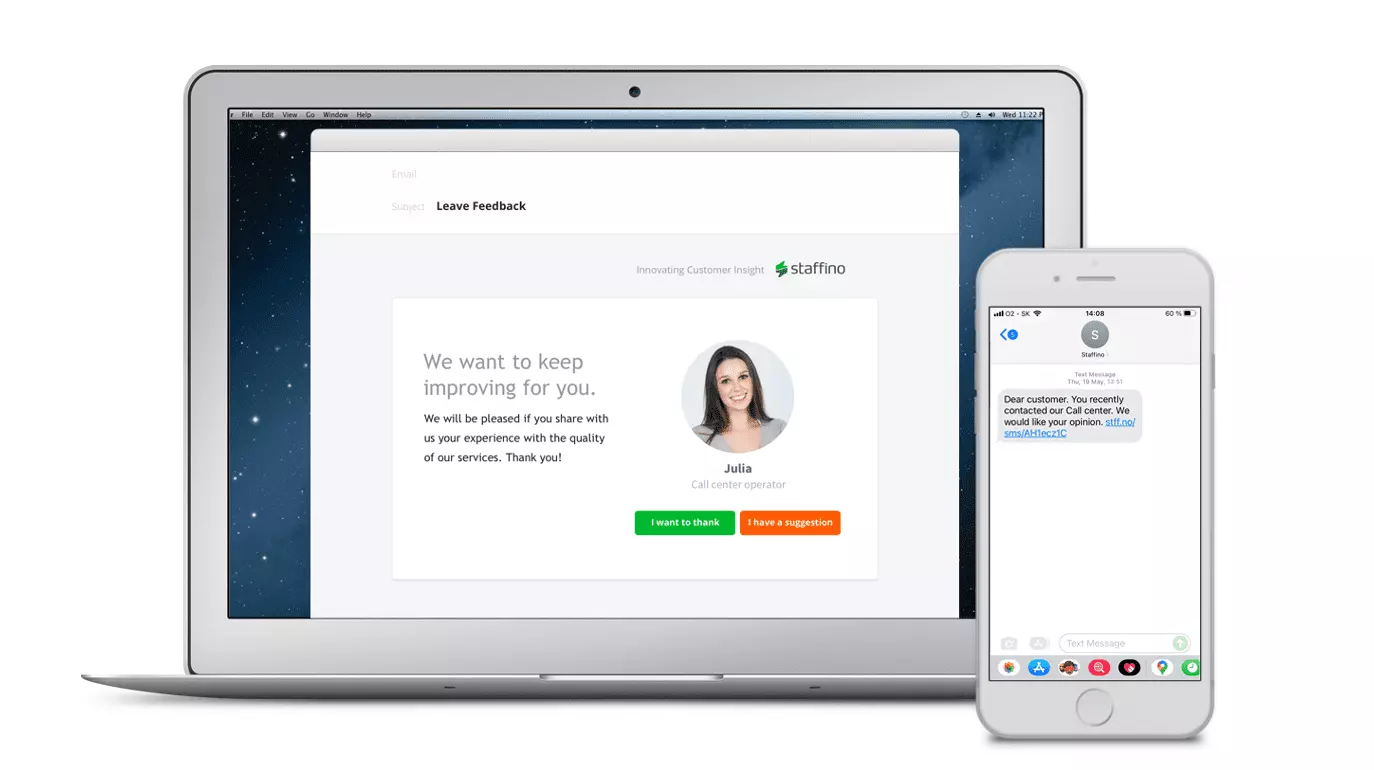 Get a Holistic View of the Customer Journey
Map every stage of the customer journey, including onboarding, in-store and online purchases, or customer service interactions, and get insights into customer satisfaction with your staff, products, website, and more.
Employee Satisfaction Surveys
Next Step: Feedback Management
Staffino works as a shared virtual workspace, where you can unite teams and employees, and all collected feedback can be made either private or visible.
Customer closed-loop feedback management through Staffino will help you uncover critical process gaps, lead internal discussions with employees, recognise best performers or identify those who need further training. In addition, the gathered customer feedback will provide real-time insights into customers' experience with your organisation so that you can quickly follow up with individual customers and optimise the customer journey.
Get started
The best performing solutions bring our clients the best business improvements
Related products & services