Solutions
Staffino Solution for Call Centres
Staffino offers you the tools to simplify the job of agents and improve call centres by measuring customer experience.
Helping the World's Leading Brands Optimise Call Centre Experiences
Staffino experience management platform provides complex CX and EX solutions trusted by more than 50 world's leading brands in over 30 countries.
For more than 5 years, we have specialised in managing call centre experiences with the goal to maximise their efficiency, improve customer satisfaction, motivate agents, and increase profits.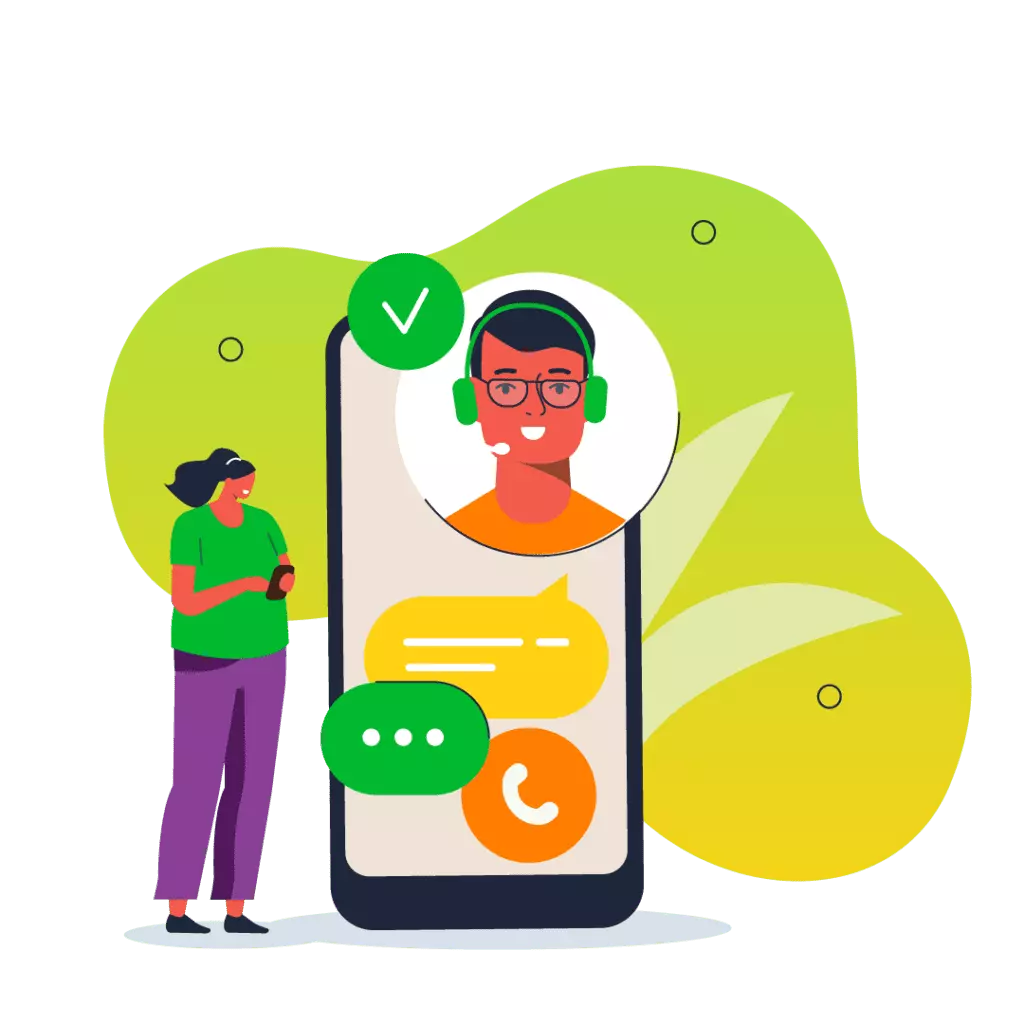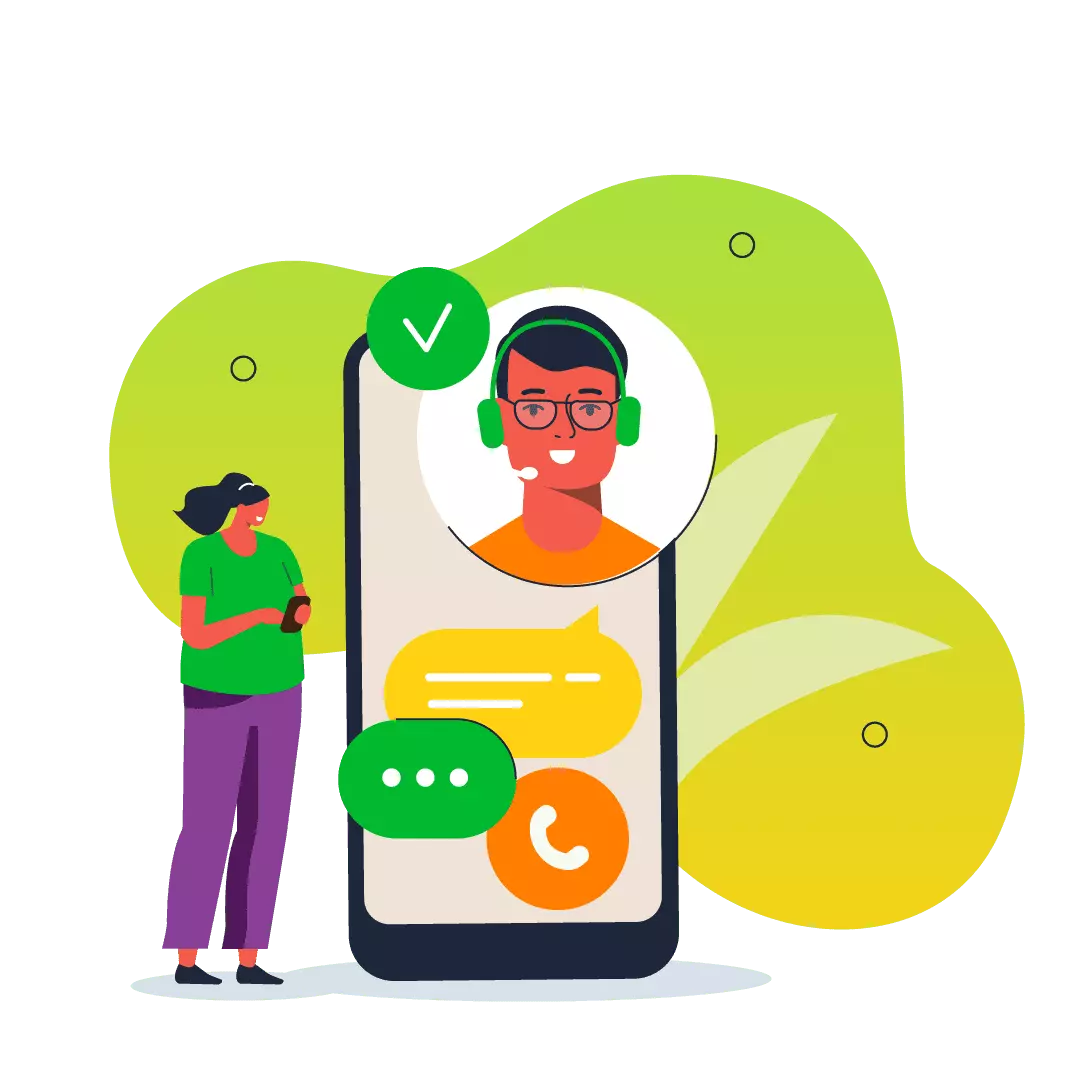 Join Dozens of Companies Which Use Staffino Solution for Call Centres
We work with clients from different industries on delivering the best possible call centre experience for their customers and employees.
Every Call Gives You a Chance to Meet and Exceed Customer Expectations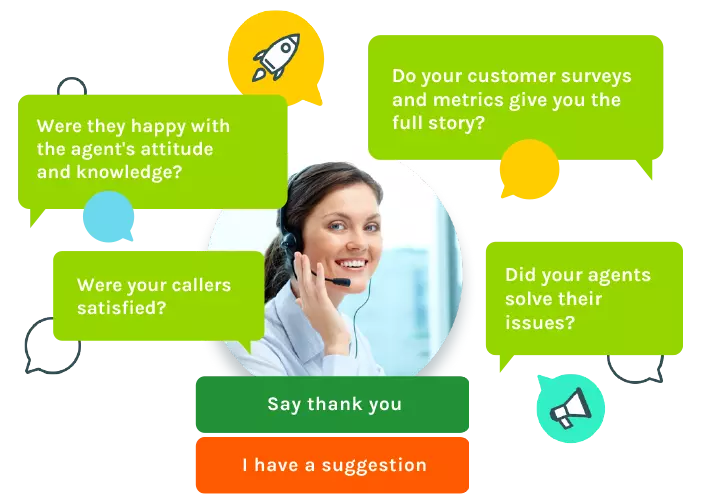 Outstanding customer experience plays a vital role in the overall success of call centres. Agents' competency, modern technology, and effective ways of feedback collection are key drivers of improved customer satisfaction with your call centre. Staffino offers you the tools to simplify the job of agents and improve the call centre customer experience.
Compatibility with Popular Call Centre Softwares
With 2Ring dashboards and wallboards, our platform is compatible with popular call centre softwares, including Cisco UCCX/UCCE/PCCE, Five9, Genesys, Amazon Connect, and Webex Contact Center.
What you can do with Staffino:
Collect actionable customer feedback through multiple channels.
Identify daily customer cases that are not followed up effectively.
Understand callers' needs and expectations and align them with your SLA.
Decrease AHT (average handle time) and increase customer satisfaction.
Uncover the strong communication points of each agent.
Motivate agents and improve employee retention.
Increase savings and revenue.

Top improvements by Staffino
1. Reduce the number of avoidable calls
2. Motivate agents and improve top line
3. Increase retention and reduce costs
How much can you save by optimising your call centre customer experience?
Collect Feedback Effectively and Increase the Response Rate
With Staffino, you can check customer satisfaction with every contact centre interaction through engaging feedback flows. After every inbound or outbound call, a feedback request will be sent to the customer via SMS or e-mail.
Customers can see the name and face of the agent they talked to, which not only increases the response rate but also helps you track the performance of individual employees. When customers fill in the questionnaire, their responses will be recorded in the online platform for further analysis.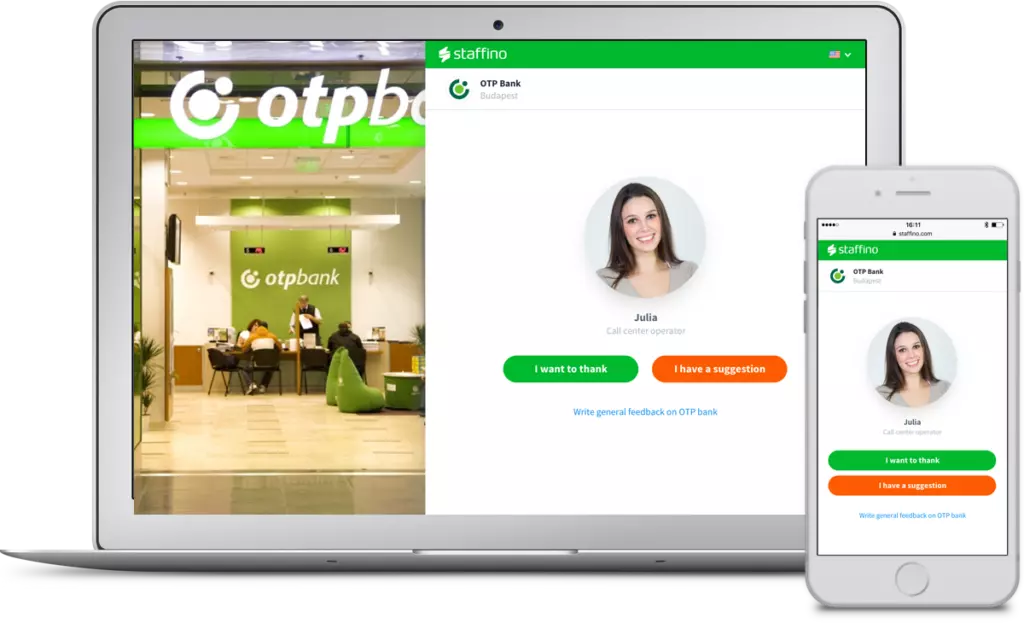 CX Solutions Popular Among Call Centres
CX Metrics
Measure your call centre's FCR, NPS or CSAT with individual agents, link the scores to business data and drive improvement.
Feedback Management
View and analyse the collected insights, reply to customers or lead internal discussions with agents.
Semantic Analysis of Verbatims
Run our semantic engine on thousands of verbatims and identify the main satisfaction drivers, regardless of language.
Retention Case Monitoring
Try our Retention Management Tool, identify customers that are about to leave and react just in time to retain them.
EX Solutions Popular Among Call Centres
Employee Recognition
Increase employee motivation through positive customer feedback and real-time recognition.
Hear From the Leaders in Call Centre Experience Management
"We were pleasantly surprised that most of the suggestions are not just negative comments but relevant suggestions to improve our services. Thanks to Staffino we have quick and specific information about the work of each employee."
"Thanks to the simplicity of the Staffino platform and the ability to internally discuss each case directly within the app, we've been able to retain 70% of customers who were likely to leave."
Case Study #1: Reducing AHT Saved €130,000 on Productive Time and Brought 2pp FCR Increase

One of Europe's largest electric utility companies and a provider of innovative customer solutions for over 30 million customers.
E.ON's call centre struggled with decreasing customer satisfaction trends, so they deployed the Staffino experience management platform to uncover the main drivers.
When Staffino assessed the customer experience with the call centre, it turned out, among other things, that customers prefer shorter calls with agents.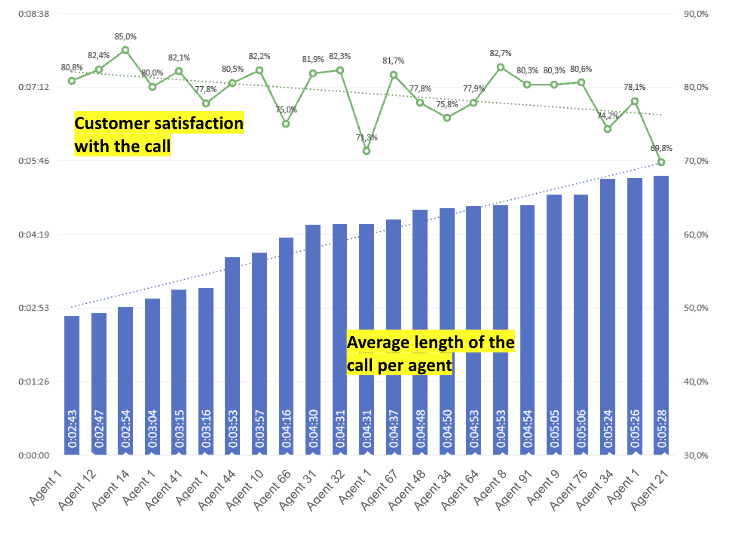 Key Results
Customer satisfaction decreased proportionally as the AHT (average handle time) increased. A new call script, new AHT KPI, agent training and quality monitoring resulted in the following:
1. €130,000 annual savings on wasted productive time,
2. 18% of the productive time saved on other activities,
3. increasing the FCR by 2 percentage points,
4. Increasing customer satisfaction by 3 percentage points (top box).
Case Study #2: Employee Engagement Reduced Employee Turnover by 4% and Saved Half a Million Euros
A multinational telecommunications corporation with over 260 million customers worldwide.
Our telco client struggled with employee attrition at the call centre caused by a lack of motivation and engagement.
The company needed to deploy an effective employee motivation management programme, so they started using Staffino in May 2017.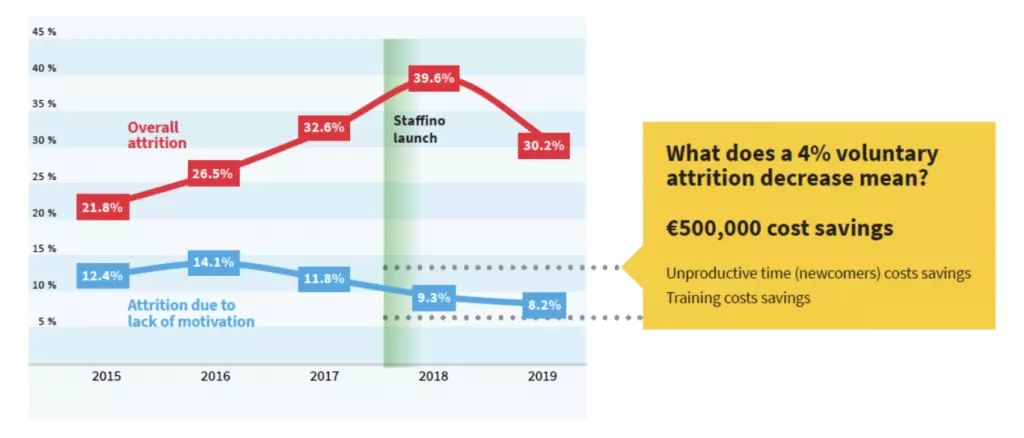 Key Results
Before using Staffino, the attrition rate at the company's call centre was 14.1%. However, the annual attrition rate decreased to 8.2% in two years after deploying Staffino's employee motivation management programme, which generated around €520,000 of savings on unproductive time and training costs. This equals total annual savings of 7% based on a yearly labour cost.
Get started
The best performing solutions bring our clients the best business improvements