Products & Services
Customer Retention Case Management
Customer Retention Management Tool for Precisely Retention Case Monitoring - Save Customers Before They Decide to Leave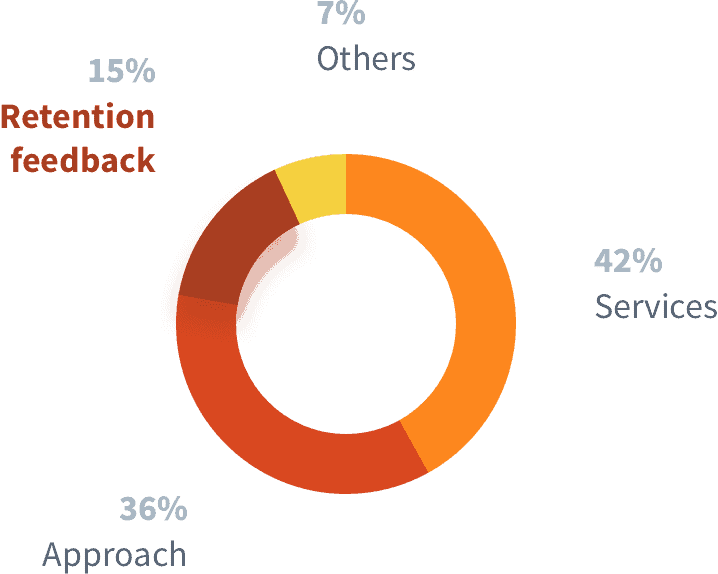 Strategically focused feedback campaigns, across your organization and customer journeys, will help you to identify and retain customers that are about to leave.
We can identify potential leavers through simple transactional surveys or with specifically targeted NPS metrics.
Combining metric collected with semantic feedback ensures that critical customers are identified for your retention department.
Customer Retention Management through transactional surveys
You can identify customers by simply asking them about their recent experience. A typical example is to ask customers about their experience when visiting your branch or calling your contact centre.
to Petra, Call Center operator
Assistant promised me that he will call back, but he didn't. Tomorrow I am switching mobile operator.
Customer Retention Management through random NPS surveys
Sometimes a customer's decision to leave you does not relate specifically to their last experience, so collecting a randomized sense-check of sentiment relating to your company and products is a valuable way of capturing these outliers.
to Martin, Call Center operator
Few weeks ago my collegue shared details about his programm and pricing with his telco providers and I will tell you, it is much better offer I got from you. So maybe I will stop by there and ask.
Saved Value
Reactive retention calculator
Contact volume surveyed in transaction survey

Reactive retention cases % (based on our benchmark)

Reactive retention case volume

Success rate of reactive retention

Average life-cycle of subscription

Value of 1 saved customer
Total saved value
187 487,91 €
Per one month subscription
8 928,00 €
Get started
The best performing solutions bring our clients the best business improvements
Related products & services